Lip Injections – Things to Know Before Getting It!
Lip injections do not last forever. It typically lasts anywhere from six to eighteen months, depending on the type of filler the doctor prescribes. Hyaluronic acid, a sugar found naturally in the body, is an FDA-approved ingredient. Doctors use this lip filler temporarily to add volume and definition.
Lip Injection – Preparation for the Appointment
Although the lip filler procedure is quick, there are a few things you can do to get the most out of it!
You can get ready for your lip filler appointment in the following ways:
Consider the outcomes you want to achieve. Convey your desired appearance; it is helpful to communicate what exactly you want.
Before receiving a lip injection, you should avoid certain medications, e.g., Advil, blood thinners, and vitamins (such as vitamin E and fish oil). Before your procedure, ask the doctor about what you shouldn't do.
You may need to take a prescription medication before your procedure if you have cold sores or other conditions around your lips.
If you do the right things before the procedure, you can avoid problems and lessen the severity of symptoms like bleeding and bruising.
Lip Injection – Preparation for the Procedure
The first thing you need to do is decide how big you want your lips to be. Take some time to consider whether you want to go from having thin lips to having big, plump lips in one procedure.
It will be apparent. Although having too little is easier, you want your lips to be balanced. However, since most doctors prefer their work to appear as natural as possible, it is up to you to express your desire to see a real difference immediately.
Physically, you should avoid taking aspirin, Motrin, Aleve, fish oil, multivitamins, and vitamin E for about a week before your procedure because these medications can thin the blood and increase the likelihood of bruising after the injection, a common side effect.
Lip Injections: Get the Lip of Your Dream Celebrity
The experts are divided on whether or not you should bring a picture to your appointment. Some doctors like it, while others don't. Each person's anatomy is unique, and so is the shape of their face. It's better to discuss with your doctor what exact shape and look you want for your lips and let them work with how your mouth is set up to get it.
It is true among women of all ages that they ask for the kind of lips shape of the celebrity they follow.
Lip Injections Results – Vary Depending on the Filler.
Those days are gone when women could only use collagen fillers as an option. Hyaluronic acid, a naturally occurring substance in our bodies that is highly attracted to water and binds to moisture, has emerged as a great solution with various dermal fillers. Additionally, the substance is relatively resistant to lumps and bumps.
The doctor should choose a type based on your needs, but many options exist. Restylane, on the other hand, gives lips a more natural, fuller look, while Juvederm, on the other hand, gives a look that is more youthful and pillowy. Volbella works well to fill in lines around the face for older clients.
Lip Injection Filler isn't Permanent
Most lip injections last six months to a year, depending on the formula. That means you should keep taking pictures even if you like your first results because they fade. Because everyone metabolizes differently, you can do little to prolong the filler.
Lip Injection: After-care is minimal
After your lip filler treatment session, follow these steps and take care of your lips to ensure you get full benefits:
Drink lot of water and stay hydrated. It helps the body's healing process.
For the first 48 hours after the procedure, intermittently apply ice to your lips to reduce swelling and bruising.
To prevent infection, keep your lips clean for 24 to 48 hours after your session.
Do nothing strenuous for 24 to 48 hours after the procedure.
Do not apply makeup or lipstick to your lips for 24 hours.
For the next 48 hours, try not to kiss anyone.
For at least 48 hours following your session, avoid taking a hot shower or putting your lips in direct heat.
Try to avoid alcohol and smoking for 48 hours. Swelling, inflammation, and infection may result from these activities.
Swelling and puffiness may appear after your lip injection treatment. These are normal and temporary and will go away soon!
These initial stages of lip filler swelling will subside shortly after your procedure. Keep in mind to apply ice to help reduce swelling.
Even if you read some articles that incite fear online, you can resume your life after the injection. Aspirin is the only thing you should avoid. In terms of an ice pack, the doctor will apply a cold pack on your lips after the treatment. If you feel sore, the doctor will tell you to use more, but you don't have to sit with it for long hours. The actual swelling subsides in a day or two.
Another suggestion that makes sense from doctors is: You may still feel numb after the procedure and can have the risk of burning your lower lip if you drink hot liquids or use a straw immediately after the injections. So stay careful!
Lip Injection Bruising Depends on the Person.
Follow your doctor's instructions (use ice, avoid Motrin, limit alcohol consumption, and try to stay upright or lie propped up for a few hours after the procedure), and you should be fine. Minor bruising occurs naturally, mainly around the sensitive top of the lip. However, because everyone's body is unique, it is difficult to predict whether your lip injections will cause any bruising.
Lip Injections If Gone Wrong
You can get rid of it by going back and dissolving it. Hyaluronic-acid-based fillers like Restylane, Belotero, Volbella, Voluma, and Juvederm can all be dissolved by hyaluronidase, an enzyme that safely and quickly dissolves hyaluronic acid.
After six months, you may notice a slight decrease in volume, which is completely predictable over time. Your pictures show it, so you should consider getting another round soon.
Lip Injections Benefits
Lip filling is the most cost-effective and safest non-surgical method for enhancing a person's lips, regardless of the reason. Compared to the benefits of lip fillers, other forms of lip enhancement, like dermal fillers, lip implants, and lip lifts, are more invasive and typically not as desired. Here are the top five advantages of lip fillers for fuller, more perky lips.
Lip Injections Enhance the Appearance of Fuller Lips
The most important benefit of lip fillers is the appearance of fuller lips. A person can appear and feel younger with fuller lips. Lip fillers are a simple way to boost self-confidence for women unhappy with certain aspects of their appearance.
Their self-confidence can also be boosted in social and professional settings due to their improved appearance. There are numerous makeup tutorials and tips, but they only provide subtle, short-term results. Lip fillers are a good option for a woman who wants to improve her lips to feel more confident at work and at home.
Lip Injections Give a Natural Fullness
Products like Juvederm® lip fillers give a natural appearance because they are made of hyaluronic acid, which the body naturally produces. Hyaluronic acid is naturally less likely to cause bruising. Since the filler is absorbed naturally, it must be replaced approximately every six months to keep the lips plump.
Lips Injections Provide Gradual Progression
Natural fillers can be applied gradually to achieve the best outcome. People, born with thin lips and aren't sure how they'll look with fuller lips will find appealing of this option. A patient can achieve the desired plumpness for their lips without experiencing any discomfort when changing the size of an implant throughout several appointments.
Lip Injections have Little or No Side-Effects
Hyaluronic acid fillers are safe and rarely cause side effects or allergic reactions. To ensure the clinic selects the appropriate filler, potential patients must discuss any known allergies or medication regimens during the initial consultation. A doctor might first try injecting a small amount of the filler into the patient's arm to see if there is a possibility that the patient is allergic to the ingredients.
Lip Injections Filler Recovery is Fast
Most people with lip fillers can resume their usual activities within one day. It is basically taken as an "in and out" procedure. The procedure typically takes 15 minutes or less after the patient has been prepared. There are good reasons to consider fillers over other options for cosmetic surgery because of their significant impact on a person's self-esteem and appearance.
Nowadays, lip enhancement is a very common cosmetic procedure. Even though many cosmetic and facial plastic surgeons offer this service, talking to an experienced cosmetic surgeon before getting the procedure is essential. It's best to choose a surgeon based on experience and patient recommendations rather than fees, even though prices for the procedure may vary from one provider to another.
Lip Injections Before and After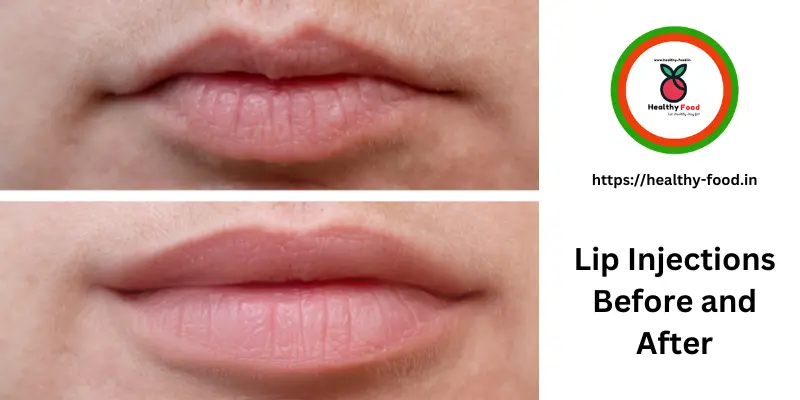 How much are Lip Injections (Lip Injections Cost)
Lip injections are expensive. However, the cost will vary depending on where you live and the quantity of filler your doctor uses. The typical price range is between $500 and $1,000. You are taking a chance with an untrained provider if you pay less.
We were all shown pictures of women with huge lips, but we still needed to learn how much money was needed to get that look. Although the amount of Juvederm in the single syringe (1 cc) we used is technically less than a teaspoon, experts distributed this single syringe in a way that made the results more visible.
How much filler do social media girls get? Without hesitation, experts estimate two to three syringes' worth, if not more. You can figure out how much everything will cost you simply by putting each syringe at $400 to $1,000, depending upon the place of treatment and the provider's level of expertise. Therefore, start saving now!
How long do lip injections last
Your lip filler should last between 12 and 18 months. However, your metabolism and age may affect the length of time. Lip fillers last less time for younger people because they burn calories more quickly than older people.
Bad Lip Injections
Bad lip fillers do precisely the opposite of what a lip filler procedure does: instantly and subtly enhance, reshape, and plump up your lips.
Uneven lips can also appear lumpy, bruised, overfilled, or poorly shaped from a bad lip filler, also known as a "botched lip job." The effect is simply out of proportion with the rest of your facial features, making you appear unattractive from a distance.
The procedures' outcomes differ regarding who is involved and how they are carried out. In most cases, bad lip fillers result from a novice or inexperienced practitioner.
Your doctor's poor injection skills or the wrong filters you chose, anything can go wrong, even your unrealistic expectations regarding lip fillers to your injector's inadequate aesthetic understanding.
Lip Injections – FAQs
How long do lip injections last?
Lip fillers do not last forever. Depending on your metabolism, they typically wear out over a period of 12 to 18 months. To keep the volume you want, you may need touch-up treatments regularly.
What are the risks of lip injections?
Hyaluronic acid fillers have no long-term side effects and only last a few days. Some of them include the following:
1. Reactivation of cold sores or fever blisters (herpes simplex) on the lips or the area surrounding the lips. 
2. Bruising and swelling.
3. Redness, tenderness, and pain.
4. Bleeding from the injection sites.
Some of the severe side effects and risks may include the following:
1. Lip asymmetry—parts of the lips that are different sizes.
2. Lumps and irregularities in the lips.
3. Infection.
4. Injection into a blood vessel can cause severe infection and tissue loss.
5. Stiffening, ulceration, and scarring of the lip.
6. Allergic reaction, which causes redness, swelling, or itching around the lips
Severe and prolonged swelling or bruising at the injection site may last one week to 10 days. Call your doctor right away if you experience severe swelling or a fever.
How painful are lip fillers?
Lip injections, in a nutshell, are not painful. The lip injections procedure is painless most of the time. Before the procedure, a topical numbing cream is applied to the injection sites before the procedure to reduce discomfort. Before the treatment, during your consultation, you can discuss any concerns you may have regarding pain and discomfort with your practitioner.
What is the point of lip injections?
It is generally used to plump up lips and often combined with injections; it is used on other parts of your face to achieve a youthful appearance. Restylane Silk, which uses micro-hyaluronic acid molecules to give your lips a natural-looking volume, is another popular injection option.